SAFE:
Successful Aging thru Financial Empowerment

Victims of Financial Scams or Identity Theft
SAFE helps resolve issues, build credit and recover funds through confidential one-on-one counseling.
Older Adults Managing Money
SAFE counselors explain budgets, debt, savings and investments plus the latest information about scams and identity theft to empower you.
---
SAFE's Counselors Can Help You:
1. Report scams and identity theft to proper channels.
2. Pull and review credit reports.
3. Submit fraud complaints to close fraudulent accounts and remove negative items from credit reports breached by identity theft.
4. Negotiate payments or settlements with creditors.
5. Complete cost-of-living budgets.
6. Address consumer credit issues.
7. Understand financial communications from businesses, creditors, etc.
8. Add fraud alerts to the major credit bureaus.
9. Contact companies to sort out miscommunications or confusion about financial matters.
10. Draft financial plans and work toward financial goals.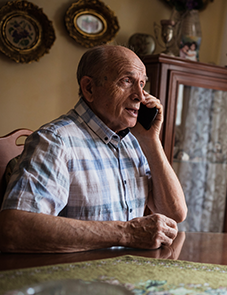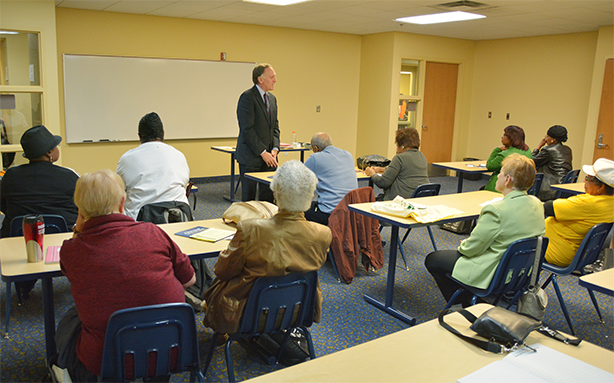 ---
BEHIND SAFE
The SAFE financial coaching and education program was created in 2017 at the Wayne State University Institute of Gerontology by Dr. Peter Lichtenberg, a clinical geropsychologist, and Ms. LaToya Hall, a master's prepared Social Worker.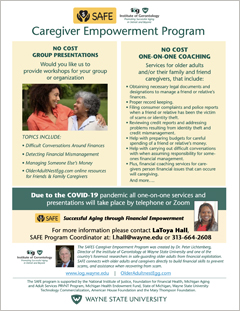 SAFE brochure
NEED TO GET IN TOUCH WITH US?
Fill out our contact us form and include any details that can help us connect you to the right person. We'll get back to you soon.
---

Questionnaire
---
If you are concerned that your financial decision-making is changing as you age, this questionnaire can help. The Financial Vulnerability Survey is completely confidential.
Resources
---
Get the latest about finances, fraud alerts and helpful websites for you and your family and friends. Free downloads on "Household Finances," "Power of Attorney," and more.