Older Adult Nest Egg helps frontline professionals review significant financial decisions to identify and protect seniors vulnerable to fraud. Older adults lose billions of dollars each year to fraud, identity theft, and scams. Now, thanks to new screening interviews created by gerontologist and researcher Dr. Peter Lichtenberg, professionals have the tools to determine awareness, influence, and judgment about an older client's recent financial decisions.
more
---
Hard Truths
---
One out of every 20 older adults in the U.S. is a victim of financial exploitation, losing an average of $80,000 to $186,000.
Nearly half of these crimes are committed by someone the older adult knows and trusts, like a relative or caregiver.
An 82-year-old man with undiagnosed vascular dementia gets caught up in the "grandparent scam," in which someone purporting to be a grandchild asks for money to get themselves out of legal trouble overseas. Over the course of one week, the man wires money from his bank account and loses $100,000.
"I entered a Financial Decision Tracker interview on a client and got a report back indicating high risk. This further justified my decision to file for conservatorship, which I did last week, got a temporary order and full hearing. That client had sent at least $130,000 to scammers (about 26 different individuals) over the past few months. His daughter is taking over his finances as soon as her acceptance of service is received by the court. Luckily, this client has over $1M in assets under management by a bank, so we are saving at least his last $1M." -- Gene M., Michigan Adult Protective Services Investigator
A frail 92-year-old woman living alone in a 4,700 square foot home, hires a repairman to fix her roof. He befriends her, bringing coffee and donuts almost daily and staying for conversation. He convinces her to take out a reverse mortgage. Then, knowing her bank account numbers and log in, he absconds with the $400,000 she received for the reverse mortgage.
A successful businessman in his 60s suffered two strokes. So his son moved in to provide care. The son convinced both parents to move south. He then "updated" the address of their financial statements to his own post office box, and forged their names to open fraudulent bank accounts. He had their financial advisor wire funds to these accounts, stealing more than $3 million. The father died penniless on Medicaid in a nursing home.
A 66-year-old woman got a Facebook friend request from a man who said he was on the Embassy staff in Italy and lonely. He wanted to return to the US, but was having trouble securing travel funds. After weeks of "friendly" contact, the woman decided to send him $5,000. Fortunately, as her teenage granddaughter helped with the wire transfer, she realized something was amiss. She stopped the transfer and notified her parents. The scammer was never caught, but the woman kept her savings.
Nest Egg Tools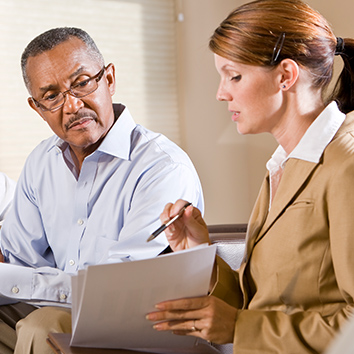 Financial Decision
Tracker
This brief 10-item interview examines a specific financial decision made by an older adult to assess his or her financial judgment, vulnerability to theft and scams, and whether financial predation may have taken place.
For professionals who often work with older adults making significant financial decisions, including attorneys, financial planners, bankers, investment brokers, insurance agents, accountants, law enforcement officers, and Adult Protective Services case workers.
More about the
Financial Decision Tracker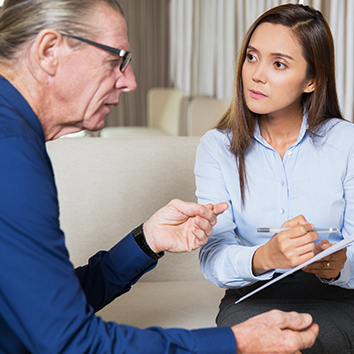 Financial Vulnerability
Assessment
The Financial Vulnerability Assessment is an in-depth interview to determine the factors involved in an older adult's financial decisions. This includes an assessment of cognitive impairment, situational awareness and undue influence and their impact on financial decision making.
For mental health professionals who are well-trained in administering standardized tests, including psychologists, psychiatrists, physicians, therapists, counselors, nurse practitioners and pastoral counselors.
More about the
Financial Vulnerability Assessment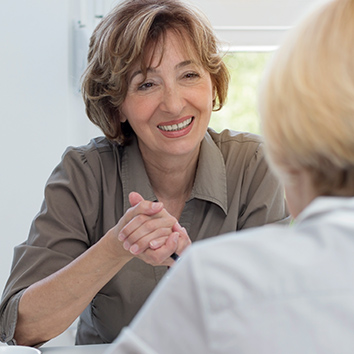 Family & Friends
Interview
The Family & Friends Interview asks a series of questions to the trusted relative or friend of an older adult to better understand one of the older adult's recent financial decisions.The interview provides a complementary perspective on the decision and is best used in combination with the Financial Decision Tracker or the Financial Vulnerability Assessment.
Information about an older adult's financial decision from a trusted relative or friend.
More about the
Family & Friends Interview
Start Training to Use the Interviews
Certification is simple and straightforward. Our convenient online training shows you how to administer the assessments to achieve accuracy and reliability. Training to become certified to use the Decision Tracker and the Family & Friends Interview is available to all professionals. Training and certification to use the Vulnerability Assessment, however, should be completed only by a mental health professional.
Trainings & Consultations
Groups or organizations interested in receiving training for either interview should contact Dr. Lichtenberg. He conducts trainings in person, via conference call or webinar. Participants learn the science behind the assessments and how to administer and score them. Dr. Lichtenberg also consults with organizations to help them understand the problem of financial exploitation and how these appraisals can protect their employees and the older clients they serve.
Call 313-664-2633 or use Contact Us to email.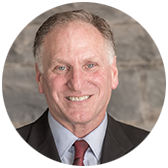 Peter Lichtenberg, PHD, ABPP
Dr. Lichtenberg is a national expert in financial capacity assessment and the financial exploitation of older adults. An award-winning author and researcher, his interest in how older adults make financial decisions, and the responsibility to defend autonomy while protecting the vulnerable, led him to create the interview tools found here. He has conducted numerous medical evaluations and been an expert witness in more than 80 cases related to older adults and capacity.